Chocolate-y soft serve that's made from healthy whole foods? Yup. Only three ingredients? Yup. I know, I've got you hooked.
The recipe is super simple, really more of a method. But you can dress this smoothie bowl up or down, and customize it to your heart's desire! I went for a Valentine's Day dessert theme and topped them with decadent goodies.
Chocolate Dream Bowl
Frozen Bananas
Cocoa Powder
Milk of your choice (I used coconut)
Cut up your frozen bananas, so they'll blend more easily. Add them to your blender or food processor. Add in cocoa powder to taste (probably start slow, you can always add more!). Now, add in the smallest possible amount of your chosen milk. This is key if you want a thicker smoothie/nice cream. You want to add just enough liquid that you're able to blend the frozen bananas. Blend, and add more liquid as needed.
Toppings
My BF is super into chocolate, so I wanted to amp up the chocolatey goodness in my toppings. I used:
Nature's Path Organic Love Crunch granola in dark chocolate & red berries
Some defrosted strawberries
Toasted coconut flakes
Green & Black's organic milk chocolate with chopped almonds
The options are endless. You can top yours with any sort of fruit, nut, seed, etc. If you're at a loss for ideas, I suggest you take a look at #smoothiebowl.
Tips
Prep your toppings before blending the smoothie so it doesn't melt while prepping
Put your serving bowl in the freezer to cool before adding the smoothie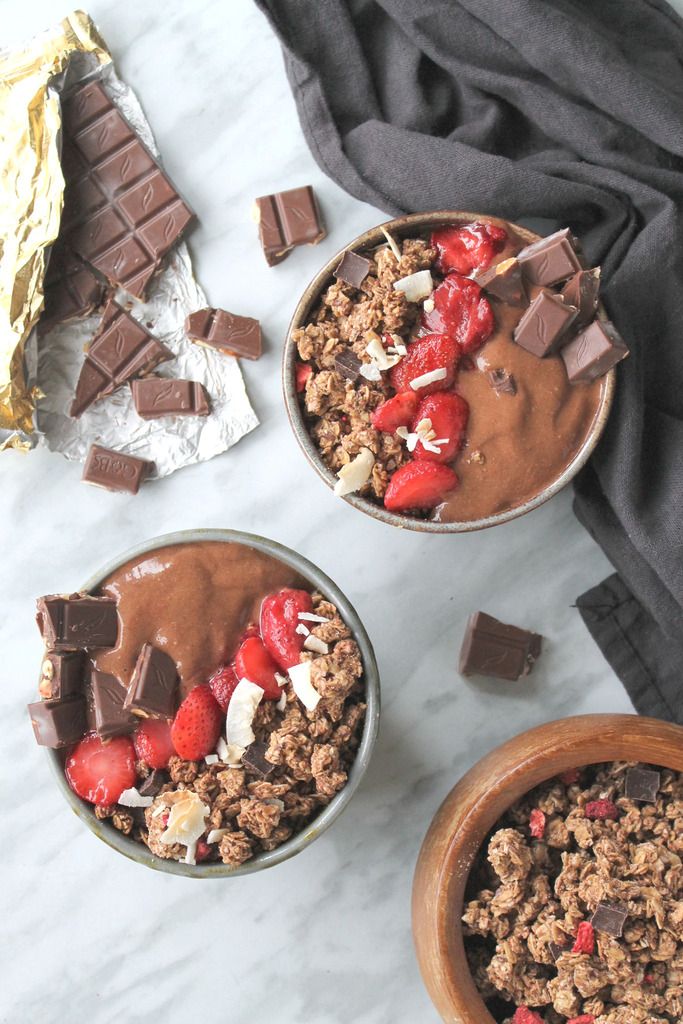 If you make this recipe, be sure to share it with me here/on social media!
Happy V-day.
Or just happy Sunday, because I actually don't really care that it's Valentine's day.
I'm down to eat this nice cream bowl any day.
Follow on
Follow